Continuing my neverending quest to actually do the craft projects I've pinned on Pinterest, I wanted to try what looked like a really sinchy project. Break up some CDs and stick 'em on a frame. This is the original pin pic, from which I worked.
As I've mentioned previously, I will no longer be shooting my projects being created. But I started with a plain wood frame, and painted it black. My black paint, for some reason, had the consistency of tar. I was so eager to forge ahead that I tried to make due with it as it was. Surprisingly, it did not occur to me to dilute it a little bit with water. Probably because I was too eager to forge ahead and got tunnel vision. When the paint dried, it looked horrible. I attempted to sand down the uneven clumps, with poor results. I then gave it a new coat with the diluted black paint, but it didn't do much to hide the imperfections. I figured that was OK, it's going to be covered with CD bits so I'll just make sure only the decent black parts show. I sealed the paint with some mod podge.
Now it was time to break the CDs. I first used a couple blank Memorex writable discs. This was the next disaster. The CDs are very hard to break, very sharp once broken, and the silver starts to flake off in chunks. WTF?!?!?! Then I dug through some unknown movie discs that the hubby had, unopened promotional copies that didn't look the least bit interesting anyway (i.e., 'chick flicks'). Those wouldn't snap at all unless I bent them back and forth a half dozen times. Then the discs separated, leaving me with one that was tinted dark, but clear, and then the not-so-good looking silver piece. By this time I'm ready to scream, but I moved forward, gluing pieces on the frame, getting glue fingerprints all over the silver pieces and muttering a constant stream of obscenities under my breath.
This is the end result. It Looks. Like. Shit. You can still see the black paint glops, you can totally tell the difference between the flaky Memorex CDs and the dull silver of the movie DVDs. I just don't care. My friend and fellow Vincent Vixen, Ducky, said she loved it. I asked her if she wanted it and she said yes so it now resides at her house in Minnesota. Russell pointed out how you can see the reflection of my red plaid flannel jammies in some of the bits, esp. the bottom left corner. Nice.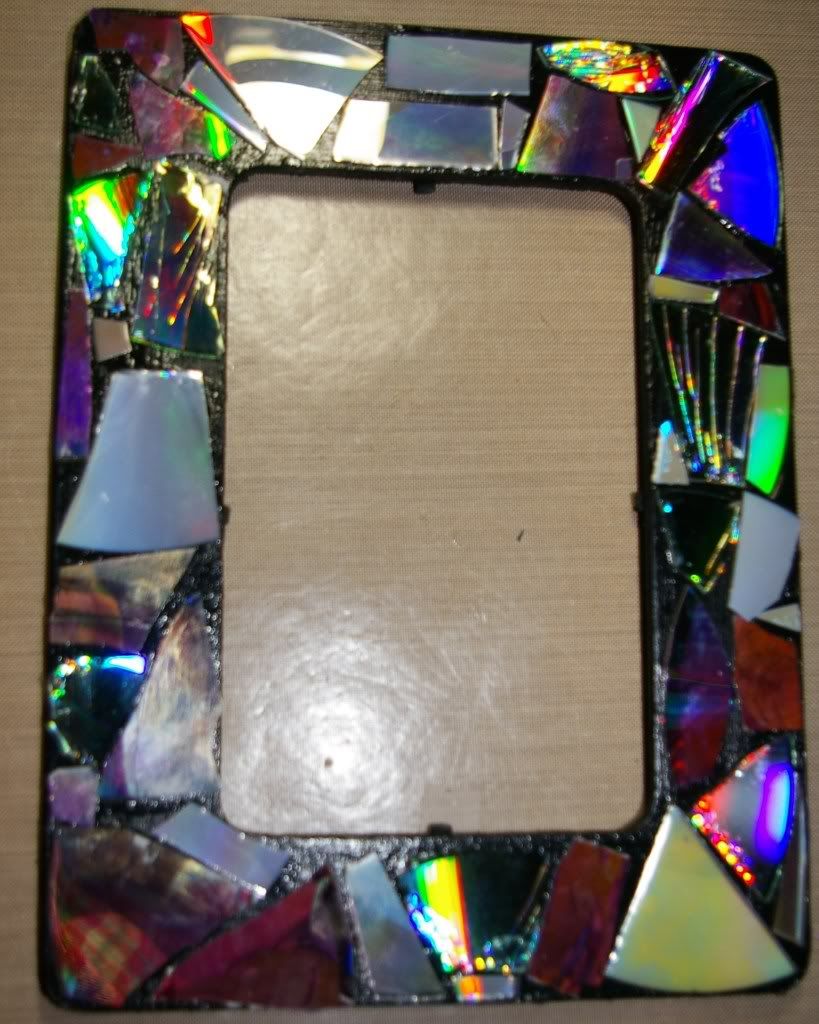 I wouldn't call it an epic fail, but I also didn't have fun working on it either, so from that standpoint it's a fail. Another one of a kind, never to be made again.