Let me first start by saying that we have not set, nor are we even close to setting, a date for our wedding. I cannot emphasize that enough. This particular post is just for fun. It'll be awhile before we get married. I haven't seriously given anything a thought at all - elope vs. wedding, date, clothes, etc. The first time I got married, I eloped, and never regretted it. I could actually remember my wedding day b/c it was so low key with just us and our 3 best friends. There was no stress, no whirlwind of activity and frenetic reception with toasts, dancing and cutting the cake or people tapping their forks on their glasses to get us to kiss. By the time I got married to Brian, I was a veteran of the Large Italian Wedding & Reception thing and knew that I never, ever wanted to have that kind of ceremony. The thought paralyzed me with fear then, and does now.
Ideally, I see us eloping and then coming back and having a big party or something, probably rent out the Legion Hall and invite everyone to get together with us there. On the other hand, I realize that it would be a snub to our families and friends not to do anything at all....so many of them played a role in our getting together, keeping secret so that I could extricate myself from my marriage without the ex finding out just how involved I was with Russell, plus it would be cool if they could be there on our special day.
That said, I am greatly enjoying my friends' various and sundry funny ideas and suggestions for my wedding. The ideas have all been very colourful and sparkly, including tie dyed bridesmaid dresses, which of course I gleefully showed Russell who got a look on his face like, "What have I gotten myself into?" When the following photo turned up on my timeline from Deb with 'You need this for your yard', I commented back, "Are you trying to get him to break up with me?".


She also posted this as a dessert suggestion. Lurving the gumball machines.
There have actually been some really cool ideas too. Mina thought the picture of our initials and heart done in pebbles would make a good 'save the date' card. That's pretty brilliant!!! I probably have a dozen friends who have offered to marry us. My friend Sue up in Eastham said that her husband can marry us aboard their sailboat. How cool would that be? And could it be possible to actually have all of them take a turn in our ceremony? So much for keeping things 'toned down'.
I'm not a dress-wearer. I don't even own one. Well I do own one, but it's purple and black velvet with dragons embroidered all over it in red and gold thread. I've never worn it, but I had to have it even though I know it doesn't fit anymore. Not sure I'd wear it to get married in though, but I do like these threads:
This would make a cool cake.
Oooo or this one!
But I
really
love this one.
Here's a project I would love to make, but even
that
would be funny! The first map is 'We Met', the second is 'We Married' and the third 'We Live.' Then I realized that, unless we elope, it's going to be the same map for all three hearts!! We met in Sandwich. We will probably marry in Sandwich. We may or may not live there after our wedding, but we'll be close by. Russell suggested we elope to Vegas, at least that way the middle heart can be different.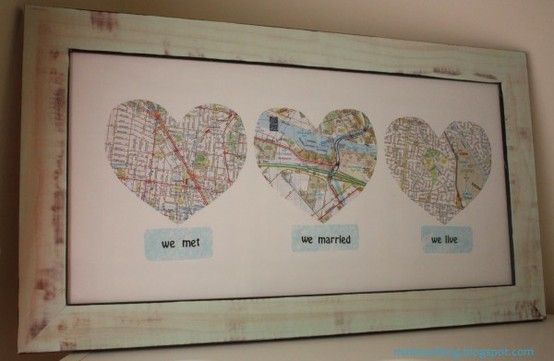 Isn't this a riot? Couldn't you just see Sagan with one of these on?
Whatever we end up doing will be awesome and special, whenever that may be.