The craft show in Hyannis was a total bust. I dragged myself out of bed at 6:00 a.m., wondering how in the world I used to do it on a daily basis for the last 20+ years. It was a cold, wet, raw day too. I got up to Hyannis by 7:00, found my table and set up. There were a lot of vendors with beautiful items. The beaded ornaments on the table in front of me were exquisite. Sat around till the doors officially opened at 9. Marsha came along with me and I was very grateful for her company. The morning draaaaaged by. There were no customers. The only people buying stuff were the other vendors. I could have dropped a ton of cash there myself. By 12 Noon it was deadly. Everyone was pissed off. There was very little promotion, apparently. Plus the parking lot filled up w/ cars of the people using the VFW bar downstairs, and it was too miserable to park elsewhere and walk. At 12:30 I decided I'd had enough. Russell was only home for a few hours that weekend and so I bailed and went home to spend time with him. I didn't even make back my table fee of $20. I made $15. I think I'm done w/ shows for this season. Next year I'll stay in the Sandwich area and just do those. In the meantime I'm working on getting my Etsy site back up and running.
But on the plus side, I entered some raffles and I won this beach glass necklace.
And one of the beaded ornaments. I kind of stacked that raffle bag with almost all my tickets in an effort to win.
Monday Dec. 3rd was amazing, weather-wise. It was 64*. No jacket needed. I went into Sandwich and decided to go for a walk on Sandy Neck Beach. The Neck itself is accessed by 4-wheel drive vehicles only, out through the dunes and onto the beach. It extends quite a few miles. I only went to the public parking lot where the main swim area is in summer.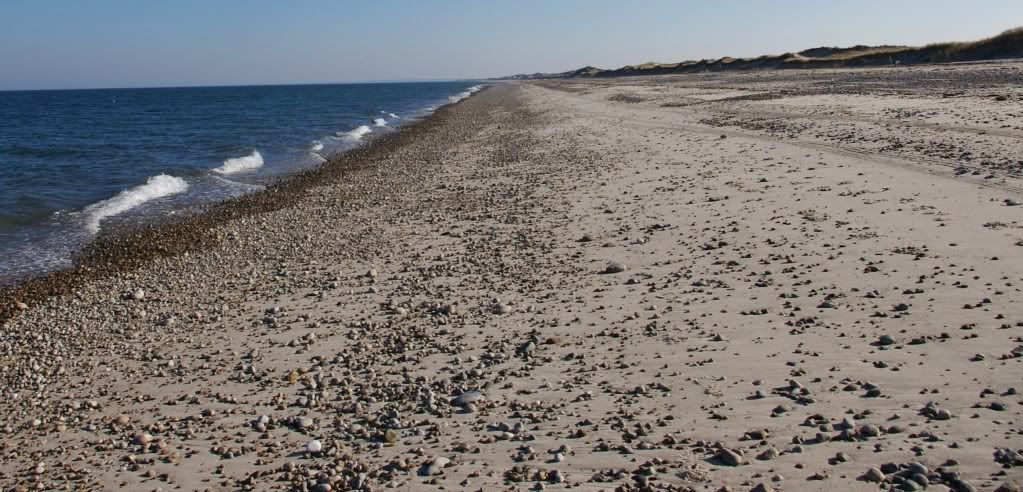 It's kinda funny that it's called 'sandy' when it's mostly rocks, although I hear the neck part way down is sandier.
I found one teeny tiny piece of white glass but that was it. Kinda disappointing. Got some cool rocks and driftwood though.
The sound of the water is so soothing.