What a fab Thanksgiving weekend! I was somewhat under the weather earlier in the week but luckily it never got full blown.
We went to see my mom on Thanksgiving around noon for about an hour, before heading over to my future sister-in-law's for dinner with their immediate family. It was a great afternoon and I am really happy to be a part of his family. His niece brought their dog down from Maine. His name is Captain and he really took a liking to Russell. He jumped around, wanting to play as soon as we walked in. As you can see, he's huge. I was sitting on this loveseat when Captain came over, pushed himself between us and climbed on us both, then hip checked me so hard I had no choice but to get up, where he then took my space with a look of satisfaction. lol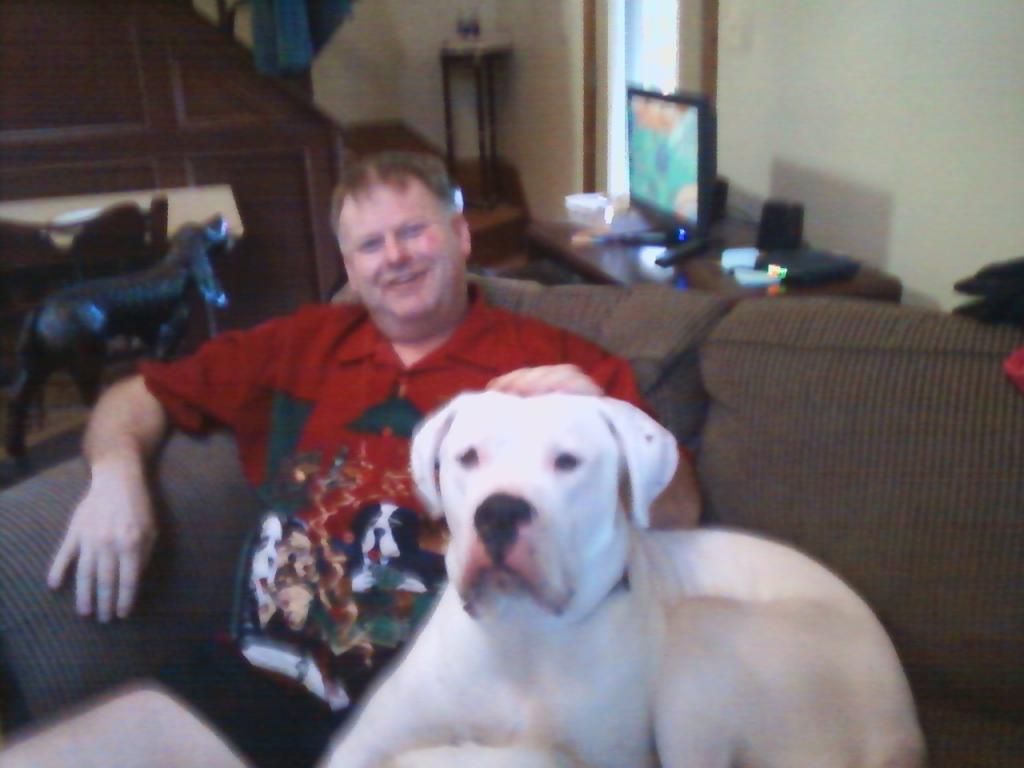 We ate early - around 2 - and we hung out for a bit afterwards, getting home at 3:30. On Friday, we did our errands in Sandwich in mid-morning, then came home and cooked up a turkey breast and all the fixin's because we didn't have any of course, having eaten at Grace's (except for the ham she sent us home with). It was a perfect day together. ;-) The weather was gorgeous too - cool, clear and crisp with a waxing moon.
Saturday was a bit colder. I walked downtown to check out a couple junk shops because I needed something for a craft I am hoping to do soon, found what I needed, then walked home and made a few more sparkly shells....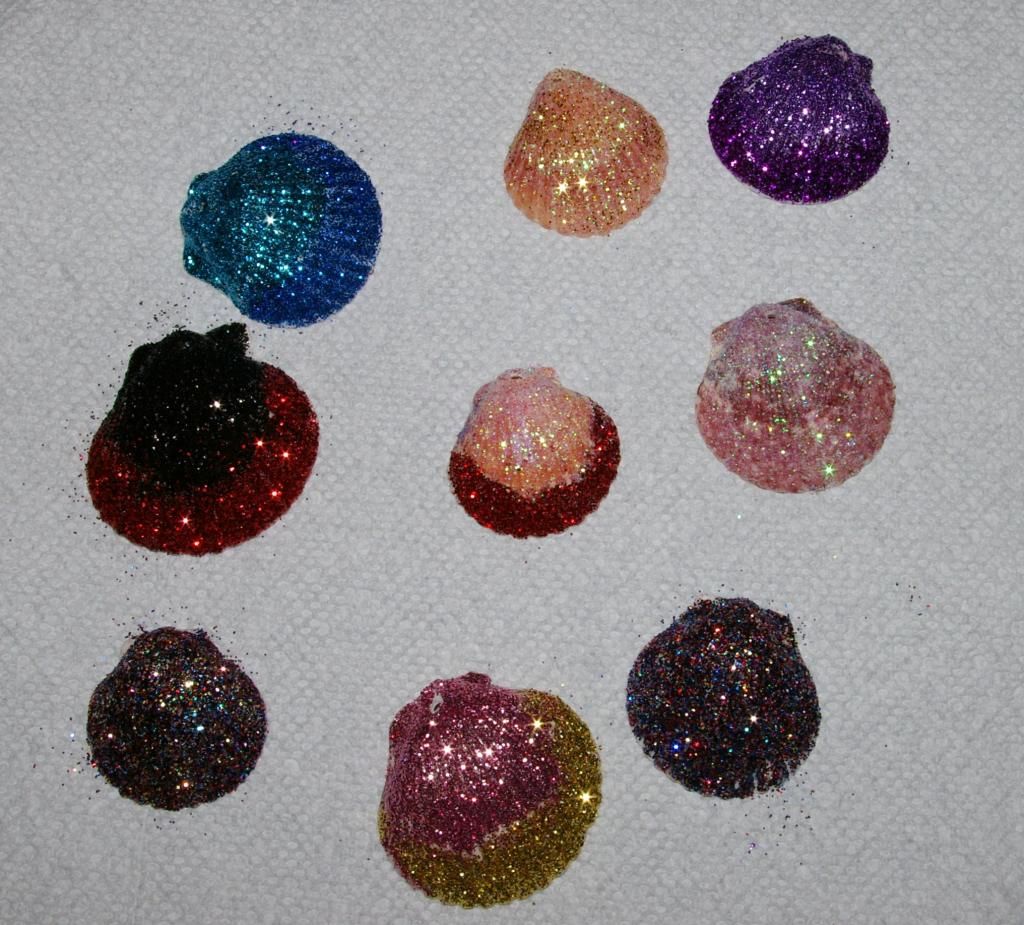 ...and then I knocked together these styrofoam balls using sequins, beads and ribbon from some Christmas ball kits I made in the late 90s.
Here are all the shells with hangers attached, in the presentation I plan to have at the 12/1 craft fair in Hyannis. I'm still on the fence about using the dried beans.
More fun with paint chips & sequins. I've seen the candy canes used as a garland, by punching holes in the top and threading ribbon through them.
I guess it's time for me to break out the Christmas decorations and see what I can come up with now that we have 'Destructo Dawg' and the furniture has been rearranged a bit since last year. Sunday was really cold and I had to go into Sandwich in the morning, so when I got home I wasn't much in the mood for hauling all that stuff out, so I'll work on it this week. My neighbours have already decorated, as has downtown BBay and Sandwich. Still not sure about doing cards. I haven't made any because the list of 'Handmade Cardworthy People' got way, way too long. It takes a lot of time to make 30+ cards. It was more manageable a few years ago at 15'ish. I usually buy cards on sale after the holidays, but I really don't recall having done so last January which means paying ridiculous prices for poor quality cards that get thrown out. Not to mention the cost of postage. I guess I should make up my mind about that soon.
My b-day is today, actually. Hard to believe I'm 'twenty-twenty eight'. Won't be celebrating it till the weekend when my squeeze is home, and I haven't decided what I want to do yet other than lunch or early dinner at 99. I'd like for us to get our ornament somewhere, and the Glass Museum is having their annual Glassblower's Christmas event. Heritage Plantation is doing their annual 'Gardens Aglow' and then there's Edaville Railroad in Carver with their lights display, although that could be a mob scene of families. LaSallette Shrine in Attleboro does a colourful display but it's all Catholic-themed, so light on the Santa-thing and heavy on the Nativity-thing. Then there's the lit lobster trap up in Provincetown which would be nice to see, but I'm just not enthused about the drive back in the dark, on suicide alley. It's dangerous enough during the day. It's supposed to be wicked cold so I'll have to see if I feel like being outside in it. Whatever we do, I'm sure it'll be special and memorable. In any event I'll have to be home early because I have to be in Hyannis by 7:00 a.m. on Saturday for the craft fair!

Wish me luck!